Press release
GLOBE40: A PROLOGUE STEEPED IN HISTORY
Connecting Lorient and Tangier, the prologue for the first edition of the GLOBE40 set sail this Saturday 11 June at exactly 15:00 hours. With the start line set between the 5-port town in Brittany and the island of Groix, the Race Committee released the crews onto a 7-mile coastal course concocted by Race Management off Lorient harbour, between the headlands of Le Talut and Pen Men. The competitors got off to a clean start in perfect conditions, sunshine and around fifteen knots of W'ly wind. Once around the westernmost tip of the island, the GLOBE40 skippers launched onto the 920-mile warm-up sprint to the Moroccan city. Mirroring the historic trade routes of the French East India Company, the course will give the crews a chance to get into their stride before the official start of 'The Long Way', which will lead the fleet to the four corners of the globe in competition format.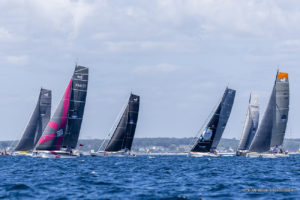 The emotion on the docks of Lorient La Base was palpable as the fleet cast off. Indeed, it may well be but a warm-up race, but the next time the GLOBE40 skippers set foot on Breton soil again, they'll have a sports adventure par excellence to their credit having circumnavigated the globe under sail. After bidding a fond farewell to the Citadel of Port-Louis, a building which houses the East India Company museum, the international Globe40 fleet, comprising 18 sailors and 8 nationalities, made for the start line off the mouth of Lorient.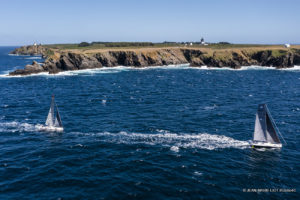 It was the crew from Morocco, host of the upcoming OFFICIAL START, who were the first to distinguish themselves once the prologue got underway. Simon Boussikouk and Omar Bensenddik posted an excellent start, highlighting the racing talent of the former Vice-President of the Royal Moroccan Sailing Federation. Relishing the fantastic conditions, the Japanese crew led by Masa Suzuki quickly stepped things up a gear to dominate the coastal course thanks to some impeccably clean tack changes. The ideal start then for the Milai Around The World team, who must have had a real confidence boost to be at the front of the fleet before they rounded the western tip of Groix and set a course for Tangier. Astern of them, the American and Dutch Class40s, Amhas and Sec Hayai, were evenly matched as they sped along the foot of the cliffs, putting on a fabulous show for the public out on the water, before heading offshore in second and third place respectively. A hotly contested start to proceedings then and a taste of what awaits the sailors in the planetary battle set to colour this first edition of the GLOBE40.
What an introduction then as, three years to the day since the GLOBE40 project was announced, on 11 June 2019, this epic adventure finally takes to the water in Lorient, kicking off this innovative round the world race on Class40 monohulls. Three years of relentless work to bring this course to life and build a close relationship with the towns and cities hosting the various legs that make up the course. Three years to forge strong links with the skippers from right around the world, who make up today's fine fleet. Three years where it has been necessary to overcome an unprecedented health crisis in a locked down world, and an ongoing international crisis. Three years to witness these experienced sailors head out to sea, bound for the Maghreb city in the Strait of Gibraltar, and the OFFICIAL START, which will see the Class40s doing battle across the many seas and oceans of the globe…